The Real "Day"
June 8, 1961

Thank you Martha Imhoff Frasher for this picture!
And thank Curt Abbott for these Pictures
1961 Newark High School Graduation
The "Day"
June 1961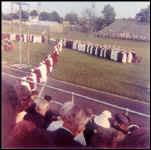 Thanks to Lynn Miller I found out this is not our actual graduation picture.
The ceremonies were held in the new high school gym due to rain.
If any one has a picture of the ceremony please send it to me so I can replace this imposter.

Please don't make fun of the clothes, they were forced to wear them.

Cheerleaders, Majorettes & The Band
Carol Offenbaker's 2001 Reunion Pictures
Rick Price & Ted Glover
Rick Price & Ted Glover 62 Years Later
Woodrow Wilson Jr High Cheerleaders 57 58
Thank to Lynn Miller
2 Pictures From the 1960 Reveille Review
Homecoming Queen & Court - Newark Basketball Team
Thank Jim Waters for these
1957 8th Grade Newark Township Class Graduation
Thanks to Diane Helman
Coming Soon Reveille Reviews\
Courthouse Newark, Ohio December 2006
Courtesy of Everett Hollingshead
Remember how great the Courthouse looks at Christmas time?
Courtesy of Gene Henry McCoy
Thanks to the Newark Advocate
Gym-Jams at the YMCA

Courtesy of John Gall
Central Elementary Grade 4 1952 - 1953
Central Elementary Grade 9 1957 - 1958

Courtesy of Charles Ferry & Bill Johns
Central Elementary Grade 3 1951 - 1952
Hartzler Elementary Grade 6 1954 - 1955
Courtesy of Ted Glover
Mound School Grade 1 1949 - 1950
Mound School Grade 2 1950 - 1951
Mound School Grade 5 1953 - 1954
Courtesy of Anonymous
Mound School Grade 6 1954 - 1955
Woodrow Wilson Grade 7 1955 - 1956
Woodrow Wilson Grade 8 1956 - 1957
Woodrow Wilson Grade 9 1957 - 1958
Courtesy Linda Bryan (Roberts)
6th grade class at Conrad 1954 - 1955
7th grade class at Lincoln Jr. High l955 - l956
Pictures of Tommy Blackstone and Mary Lou Piper from the 1950's
Thanks to Mary Lou Piper Scott
01 02 03

Courtesy Bob Gartner
Ben Franklin circa 1957
Courtesy of Bill Johns
Photos of Licking County Schools
Licking County Genealogical Society
Mary Whitaker Davis donated several school pictures from
Newark Township Elementary grades 1-8 and a 9th grade picture from Roosevelt Jr. High