We miss you all and hope that somehow you know we are truly sorry
we didn't keep in touch with you when we could.

The Latest

Ellen D McNamar
January 12, 2018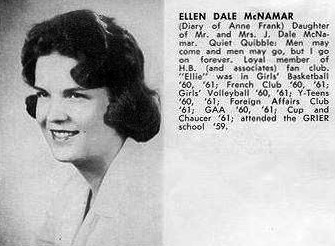 John Phillip Gunther

January 7, 1969
Sandra Lee Glasgow

March 10, 1971
Ed Lewis

July 15, 1973
Nancy Conner

June 4, 1974
William Anderson

April 12, 1977
Earl E. Keyes

July 16, 1981
Marjorie Wilson

September 19, 1988
Robert Palm

January 2, 1989
John R Goodin

June 1, 1989
Juanita J Shannon

November 2, 1989
Ronald C Maddux

January 22, 1995
Nancy L Maddux

April 30, 1997
Joyce Ann Courson

June 19, 1997
Barbara Jean Grove

April 21, 1998
Mary Louise Lambert

August 10, 2000
Maryann Board

October 18, 2000
Anita K Lewis

March 23, 2001
Paul Eugene Knechtges

June 15, 2001
Cecil Steel

December 29, 2001
Stephen John Bobot Jr.

July 25, 2002
Ronald Lynn Wise

September 18, 2002
William (Bill) H Corder

September 30, 2003
Wanoka Wright

January 2004
Barbara Jane Farmer

October 4, 2004
Nancy Eileen Shubirg

April 25, 2005
Mary Ruth Bird

February 26, 2006
Linda Sue Rauck

June 8, 2006
Charles David Hickerson

July 10, 2006
Patty Jean Harris

October 24, 2006
Mary Lynn Corby

February 11, 2007
Phyllis Kay Hamann

November 24, 2007
Lloyd Brooke Kelley

December 14, 2007
Myrna Kay Vermilion

January 18, 2008
Linda Lou Barcus

March 19, 2008
Jo Ann Baker

August 25, 2008
Ruth Arlene Hesse

September 11, 2008
Linda Lou Barcus

March 19, 2008
Jo Ann Baker

August 25, 2008
Ruth Arlene Hesse

September 11, 2008
Michael R. Johnson

September 26, 2008
Roy Eugene "Gene" Miller Jr.

October 10, 2008
Sarah Sue Cochran

December 7, 2008
John Harley Lewis

January 27, 2009
William M. Bill "Butch" Hollister Jr.

February 3, 2009
Harry R. Nethers

February 4, 2009
Harold Albert Zeke Ogilbee, Jr

October 18, 2009
William R. Smith

July 14, 2010

Geraldine Kaye Jacks

October 2, 2010

Elle Faye Norris

March 13, 2011
Victor Arthur Landram

March 27, 2011
Allen Burton "Binkle" Binckley

April 24, 2011
Charles R. Riebesell

August 30, 2011
Philip Wayne Pierson

September 11, 2011
Robert Eugene Briggs

October 13, 2011
Loren F. Lee Jr

June 16, 2012

Barbara Lynn Walker

August 27, 2012

David J. "Hoss" McClellan

September 5, 2012
Barbara M Bowman

March 17, 2013
Yvonne Sue Skidmore

May 23, 2013
William Harris Morgan III

April 2, 2013

Gloria Kay Helphrey

July 19, 2013

Charles F Arnold

October 8, 2013
Melva N. (Doty) Snyder

November 25, 2013

Frank Edward Stemm Sr

December 29, 2013

Dick L. Marsh

January 23, 2014
Larry V. Vermilion

March 21, 2014
Barbara Lee Bazler

March 28, 2013
Barbara Ann Black

May 8, 2014
Judith A. "Judy" Rice

November 11, 2014
Betty Carol Freeman

December 22, 2014
Wayne Dean Donaghue

January 1, 2015

Richard H. "Dick" Foreman

April 19, 2015


Judy R. Baker

June 10, 2015

Lowell E. Morgan

June 25, 2015
Edward Arthur Smith Jr.

August 1, 2015

Judy E. Keaser

August 3, 2015


Rosemary C Wolfle

September 15, 2015

Jerry Lee Watson

September 20, 2015
Sandra Lee Crawford

October 2, 2015
Shirley Liggett

October 29, 2015

James L. Saunders

November 4, 2015


Vicki Diane Trimble

March 12, 2016

Sandy McCaig

March 15, 2016
Roy "Eli" Miller, Sr.

March 31, 2016
Paul D Anthony

June 28, 2016
Sally Daniels Erick

January 20, 2017
Margaret Ann Broseus

May 10, 2017

Jack M. Penick

May 15, 2017

Nikki Lord

July 11, 2017
Jim Waters

October 4, 2017
Ellen D McNamar

January 12, 2018

Ellen D McNamar
1942 - January 12, 2018

Ellen S. Ruhm (née McNamar), 75, passed away January 12, 2018 at Middleton in Granville. She was born in 1942 in Newark, Ohio to the late J. Dale and Rowena Forman McNamar.

After growing up in Granville and attending Granville and Newark schools, Ellen earned a B.A. from The Ohio State University. An optician, Ellen was an avid reader and used her artistic flair in decorating. She loved Christmas and enjoyed having all the kids around, as well as the rest of the family. Everyone always looked forward to her generous and creative gifts. Ellen loved all her animals - cats and dogs, equally. She had an eye for antiques and even had her own business for a while. Shopping for clothes was a special obsession with her.

Surviving are her sons and daughters-in-law, Zachary and Jackie Snyder of Bexley, and Brendan and Sonia Snyder of Porto, Portugal; grandchildren, Zareah and Guilherme; and sister and brother-in-law, Judy and Whit Howland of Granville. We will all miss her terribly.

In addition to her parents, Ellen was preceded in death by her infant sister, Anne Elizabeth; and her husband, Craig Ruhm, who died in 2016.

Memorial contributions may be made to the Licking County Animal Shelter, 544 Dog Leg Rd., Heath, OH 43056. Additionally, the family would like to thank the staff at Middleton and Generation Hospice for their loving and patient care.

Private services will be held at a later date. Online condolences may be expressed at http://www.mcpeekhoekstra.com/.




Comments About Classmates

Vicki Trimble

April 17, 2016

It's hard to explain away a life of a friend I loved, it seems I just don't know where to stop or where to begin:

I will miss Vicki very much. Vicki and I were friends since we were 5 years old. I lived on Robbins Dr. and she lived half way up Hunter Hill. Man those were the days. Everyone in the east end would sled down that hill day and into the late evening, whenever we got a big snow, The police blocked the entire hill off from Clarendon to Everett Ave.
She loved reminiscing about our school years Jr. high through Sr. high school and she had many fond memories of her class mates. We had many laughs at the mischief we used to get into during those days which you could never get by with in this day and age. Things were so safe back then. She had quite a memory and I always relied on her memory when I wanted to remember something or someone. I'll really miss that. She became very private in her later years except for Bev (Martin) whom she cared for and me.
Love you Vicki
Sandy Rine Myers

Sandy McCaig

March 15, 2016

Sandy was my pal for most of my life.We lived next door to Sandy and her family on S Williams St in Newark, Ohio.
Sadly, Sandy has been in not the best of health for most of the later years in her life. I guess the lung disease and pulminary problems finally got the best of her.
When life interviened and we hadn't seen each other for over 30 years when I called her to get reaquainted she told me that she had turned into her Mother, but I loved her just the same
Dale Wiley

Zeke Ogilbee

August 05, 2010

I am Zeke Ogilbee's daughter and I just wanted to say how great it is that you have this site. I took care of my dad through his illness and I am still going through his belongings. He was very proud to be a NHS graduate and he had very fond memories of his friends and plenty of stories he had told me over the years. I feel compelled to say as I sort through his belongings I have come across the reunion pictures (he attended all he was well enough to attend )and I even have found some signed senior pictures and some corresponding letters. All I can say is you must of had one special class. I know I had one special dad. Thanks again for the info on the site. Yours, Ann Boyd

---

Bill Smith

August 21, 2010

Mr. Wiley,

My name is Chanda Coomer, I am Bill's daughter. I was Googling dad one day last week and i saw on the NHS website that someone had added him. I spoke with Bonnie and she said that you did. I understand that you knew dad for over fifty years so I don't have to tell you what a great man he was. I was and will continue to be blessed to have him for as long as i did. I am attaching a couple of articles and Pics with this email of dad just to share with you. I love everybody knowing what a special man he was. I hope this finds you well.

Respectfully,

Chanda

Friends, family honor lawman Smith

---

Friends From Other Classes

Joy Riehl Claprood

September 2002
Max Swartz

2002
Jerry D Carver

January 15, 2004
Patricia Ann Franks

September 10, 2005
Terry Clowe

January 2, 2007 (Obit)

Faculty
Robert W. Barclay

0ctober 6, 2005
Asst Principal
& Principal

Robert W. Barclay
March 1, 1916 - 0ct. 6, 2005

A funeral service for Robert W. Barclay, 89, of Newark, will be held at 10 a.m. Monday at Neal Avenue United Methodist Church, 12 Neal Ave., Newark, with the Rev. John W. Harra officiating. Burial will follow in Newark Memorial Gardens.
Mr. Barclay passed away Oct. 6, 2005, at the Ohio State University East.
He was born March 1, 1916, in Blue Rock, to the late Jesse and Jessie (Henderson) Barclay.
Mr. Barclay started his teaching career in a one-room schoolhouse at the age of 18. He ended his 40-year career as principal of Newark High School. He was a member of the Neal Avenue United Methodist Church, where he belonged to the Men's Brotherhood for which he frequently provided the program. He was a World War II Navy veteran.
He is survived by his son, Craig Douglas (Charlene) Barclay, of Columbus; a brother, Ronald Barclay, of Zanesville; grandchildren, Amanda (Charles) Reed, Douglas and Grant Barclay, all of Columbus; great-grandson, Tyler Reed of Columbus; step grandchildren, Jay (Judy) Prout and Marion (Ed) Crum, all of Columbus; step great-grandchildren, Meredith and Michael Prout, and Abigail Crum., all of Columbus; and several nieces and nephews.
In addition to his parents, he was preceded in death by his wife of 50 years, Letha Leota (Stevens) Barclay, who passed away April 13, 1991.
Friends may call from 1 to 3 p.m. and 5 to 7 p.m. Sunday at Brucker and Kishler Funeral Home 985 N. 21st St. Newark.
In lieu of flowers, contributions may be made to Neal Avenue United Methodist Church, 12 Neal Ave. Newark, OH 43055.
To sign an online guest book, please visit www.brucker-kishlerfuneralhome.com and click guest book/obituary.

Robert S. Deafenbaugh

February 4, 2014
Industrial Arts

Robert S. Deafenbaugh
October 11, 1920 - February 4, 2014

NEWARK: A funeral service celebrating the life of Robert S. Deafenbaugh, age 93, of Newark, will be held at 1 p.m. on Friday, February 7, at First Baptist Church Heath, 525 South 30th Street, Heath, with Pastor Noel Dear officiating.

Mr. Deafenbaugh passed away Tuesday, February 4, 2014 in Pleasantville, Ohio at Heartland of Fairfield. He was born October 11, 1920 in Bellaire, Ohio to the late George E. and Grace (Jones) Deafenbaugh.

Mr. Deafenbaugh served this community all his life fighting to protect our freedom in active duty with the United States Air Corps in WWII, as well as active duty in the Korean War for the US Air Force. He returned from active duty to continue his service in the Air Force Reserves retiring with the rank of Major.

He continued his tireless service to others in the Newark School System as an Industrial Arts teacher. There he earned many awards for excellence including outstanding Industrial Arts Educator. He progressed to the post of supervisor of Vocational and Industrial Education Departments for Newark Public Schools. His years of service spanned more than three decades.

Though Bob had many accomplishments throughout his years, his most treasured and shining epitaph is his love for life, tenacity to try and experience new things and his "can do" attitude which was never more apparent than when at the age of 84 he decided to start his life over, marry Joy and had a son, Morgan. His life was richly blessed.

He is survived by his wife, Joy; two sons, Robert J. (Nancy) Deafenbaugh of Sidney, Ohio and Morgan Deafenbaugh of the home; a daughter, Georgette (Peter) Binnington of Georgia; and five grandchildren, Michelle, Dylan, Daniel, Mary Beth and Anne.

In addition to his parents, he was preceded in death by a brother, Edward Deafenbaugh who was killed in WWII combat; and two loving wives, Mary Pichard and Geraldine King Deafenbaugh.

Memorial contributions may be made to Heartland Hospice - 6500 Busch Blvd. Suite 210, Cols. OH 43229.

Friends may call from 5-8 p.m. on Thursday, February 6, at The Newark Chapel of Henderson-Van Atta-Stickle Funeral & Cremation Service, 59 North Fifth Street, Newark where the Licking County Veterans Alliance will provide military honors. Burial will take place in Greenwood Cemetery, Wheeling, West Virginia.

Please visit www.hendersonvanatta.com to view a memorial and to leave a message of condolence for the Deafenbaugh family.




James Rollin "Jimmy Wildcat" Allen

James Rollin "Jimmy Wildcat" Allen
December 14, 1925 - August 13, 2015

NORWICH: A funeral service for James Rollin "Jimmy Wildcat" Allen of Norwich, OH will be held on Tuesday, August 18, 2015 at 11 a.m. at Farus Funeral Home. Burial will follow at Bethel United Methodist Church.

Jim passed away on August 13, 2015 at the age of 89. He was born in Norwich, Ohio on December 14, 1925 to Rollin A. and Katherine F. Allen.

He graduated from New Concord High School where he excelled in football, basketball, baseball and track. He then attended Muskingum College and played as a half back- quarterback under Coach Ed Sherman. Jim left college before graduation to honorably serve in the United States Navy during WWII and was stationed in the South Pacific. He resumed college after he was discharged and graduated with a Bachelor's of Education.

Jim began his teaching and coaching career at Dennison High School in 1948. In 1952 he found his home at Newark High School teaching History, Physical Education and coaching football and basketball. In 1962 he became the Athletic Director and remained in that position until his retirement in 1982. His contributions were celebrated with a "Jim Allen Day" in Newark and Licking County and the Newark High School gymnasium was renamed the "Jim Allen Gymnasium" in his honor.

Sports were not Jim's first love, however. As soon as he returned from his service in WWII Jim married his childhood friend and high school sweetheart, Doris Finley. They raised two children with a passion for service, education and sports. They would have been celebrating their 70th wedding anniversary on August 29, 2015.

Jim served as a Master Mason at the Malta Masonic Lodge, was a member of the Aladdin Temple Shrine Club, the Laura Chapter of the Eastern Star and Sons of the American Revolution. Jim enjoyed living at the family's 1882 farm where he was content to manicure their park-like setting and hunt. He spent many vacations visiting historical sites and researching genealogy.

Jim was preceded in death by his parents, his brother Phil F. Allen; his sister Betty A. Van Reeth; and his children Katherine A. "Kathy" Gerber and James P. "Phil" Allen.

Jim is survived by his loving wife Doris; his daughter-in-law, Pam Allen; grandson, Ryan (Jennifer) Gerber and his children Harland and Hadleigh; granddaughter, Natalee (Rick) Johnson and her son Caleb; grandson, Rory Gerber and his son Keegan; granddaughter, Sarah (Derek) Allen-Hageman and her children Ian and Sophia; sister-in-law, Anita Allen; sister-in-law, Bernie Litt; brother-in-law, Al (Susan) Finley; and many nieces and nephews.

Memorial Contributions may be made to the of Central Ohio, 1379 Dublin Rd, Columbus, OH 43215, Genesis Hospice, 713 Forest Ave, Zanesville, OH 43701, or the Newark Boosters, 621 Mount Vernon Road, Newark, OH 43055

Friends and family may attend calling hours on Monday August 17th, 2015 at the Farus Funeral Home, 63 W Main St., New Concord, OH, 43762 from 2-4 p.m. and 6-8 p.m., with a Masonic Funeral Service at 5:30 p.m., and on Tuesday August 18th, 2015 from 10-11 a.m. Services will begin promptly at 11AM, and burial will be held at the Bethel United Methodist Church Cemetery.




Deceased Classmates

William Anderson April 12, 1977
Paul D Anthony June 28, 2016
Charles F. Arnold October 8, 2013

Jo Ann Baker August 25, 2008
Judy R. Baker June 10, 2015
Linda Lou Barcus March 19, 2008
Barbara Lee Bazler March 28, 2014
Allen Burton "Binkle" Binckley April 24, 2011
Mary Ruth Bird February 26, 2006
Barbara Ann Black May 8, 2014
Maryann Board October 18, 2000
Stephen John Bobot Jr. July 25, 2002
Barbara M Bowman March 17, 2013
Robert Briggs October 13, 2011
Margaret Ann Broseus May 10, 2017

Sarah Sue Cochran December 7, 2008
Nancy Conner June 1974
Mary Lynn Corby February 11, 2007
William (Bill) H Corder September 2003
Joyce Ann Courson June 1997
Sandra Lee Crawford October 2, 2015


Wayne Dean Donaghue January 1, 2015
Marilou Dunn Mitchell June 27, 2016

Sally Daniels Erick January 20, 2017

Barbara Jane Farmer October 2004
Richard H. "Dick" Foreman April 19, 2015
Betty Carol Freeman December 22, 2014

Sandra Lee Glasgow October 1971
John R Goodin June 1989
Barbara Jean Grove April 21, 1998
John Phillip Gunther January 1969

Phyllis Kay Hamann November 24, 2007
Patty Jean Harris October 24, 2006
Gloria Kay Helphrey July 19, 2013
Ruth Arlene Hesse September 11, 2008
Charles David Hickerson July 10, 2006
William M. Bill "Butch" Hollister Jr. February 3, 2009

Geraldine Kaye Jacks October 2, 2010
Michael R. Johnson September 26, 2008

Judy E. Keaser August 3, 2015
Lloyd Brooke Kelley December 14, 2007
Earl E. Keyes July 1981
Paul Eugene Knechtges June 15, 2001

Mary Louise Lambert August 2000
Victor Arthur "Hawkeye" Landram March 27, 2011
Loren F. Lee Jr June 16, 2012
Anita K Lewis March 2001
Ed Lewis July 15, 1973
John Harley Lewis January 27, 2009
Shirley Liggett October 29, 2015
Nikki Lord July 11, 2017

Nancy L Maddux April 1997
Ronald C Maddux January 1995
Dick L. Marsh January 23, 2014
Sandra Sue McCaig March 15, 2016
David J. "Hoss" McClellan September 5, 2012
Ellen D McNamar January 12, 2018
Roy "Eli" Miller, Sr. March 31, 2016
Roy Eugene "Gene" Miller Jr. October 10, 2008
Lowell E. Morgan June 25, 2015
William Harris Morgan III April 2, 2013

Harry R. Nethers February 4, 2009
Elle Faye Norris March 13, 2011

Harold Albert Zeke Ogilbee, Jr October 18, 2009

Robert Palm January 1989
Jack M. Penick May 15, 2017
Philip Wayne Pierson September 11, 2011

Linda Sue Rauck June 8, 2006
Judith A. "Judy" Rice November 11, 2014
Charles R. Riebesell August 30, 2011

James L. Saunders November 4, 2015
Linda Ann Sessor January 5, 2009
Juanita J Shannon November 1989
Nancy Eileen Shubirg April 25, 2005
Yvonne Sue Skidmore May 23, 2013
Edward Arthur Smith Jr. August 1, 2015
William R. Smith July 14, 2010
Melva N. (Doty) Snyder November 25, 2013
Cecil Steel December 29, 2001
Frank Edward Stemm Sr. December 29, 2013

Vicki Diane Trimble March 12, 2016

Larry V. Vermilion March 21, 2014
Myrna Kay Vermilion January 18, 2008

Barbara Lynn Walker August 27, 2012
James "Jim" Waters October 4, 2017
Jerry Lee Watson September 20, 2015
Marjorie Wilson September 1988
Ronald Lynn Wise September 2002
Rosemary C Wolfle September 15, 2015
Wanoka Wright January 2004


Deceased Friends
From Other Classes

Joy Riehl Claprood
September 2002
Class 62
Max Swartz
2002

Jerry D Carver
January 15, 2004
Class 62
Patricia Ann Franks
September 10, 2005
Class 62
Terry Clowe
January 2, 2007
Jim Pyle
March 29, 1944 - Dec 26, 2007
Class 62
Rick Van Winkle
Nov 24, 1942 - Jan 19, 2006
Class of 60
Terry Tim Holton
Nov 16, 1941-May 4,2007
Class of 60
Linda Lorenzen Applegate
Feb 25, 1942-July 23, 2007
Class of 60
Walter Bolton ,Jr
July 22, 1942-Sept 2, 2006


Thomas Franklin Gough
April 17, 2010
Class 59

Deceased Faculty

Ruth Huddy
Typing, English & Office Machines
2008
Robert W. Barclay
Principal
0ct. 6, 2005
Joe Carlo
Football Coach
1919-2007
---